Join us Friday anytime between 4:00 & 7:00 June 17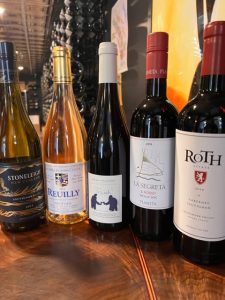 Join us Friday anytime between 4:00 & 7:00 June 10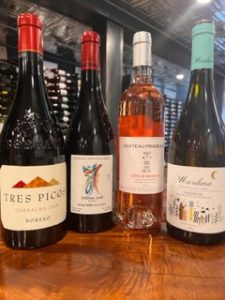 Wine Tasting at The Wine Vault
Join us anytime between 4:00 and 7:00 this Friday June 10.
The white wine this week is a blend of Verdejo and Macabeo, a delicious summer aromatic wine from Spain,  perfect with cheese, light seafood, or salads.
The Rose  is organic dry wine from the prestigious region of Bandol France. This Rose is not to be missed, 95% Mourvedre full and elegant, perfect on it's own.
Two reds, the first we will taste is a great summer red, a Cru Beaujolais from Julienas, France, a wonderful example of Gamay tasting of blackcurrant, cinnamon and a hint of pepper. Pairs well with cheese particularly Von Trapp Mt Alice, olives, salmon, portobello mushrooms, roast chicken.
The red from Spain is a  full lovely wine, 100% Garnacha from Campo de Borja, an arid region in Northern Spain. Tastes of blackberry, plum with tones of leather and vanilla, silky dry finish. Great barbecue wine, hearty dishes, a juicy grilled steak, Spanish cheese like Manchego, and our beloved Von Trapp Charcuterie.
See you at The Vault!!
Join us Friday anytime between 4:00 & 7:00 May 27
Please join us for a casual wine tasting Friday eve anytime between 4:00 -7:00
We will taste a rose a white and three reds!
The rose is a good value easy-drinking Garnacha rose from Spain.
The white is a Chardonnay from the Western Cape of South Africa unoaked with a hint of grapefruit.
Another gem from the local vineyard Stella 14 Uncle Markette, features dark fruits, slightly effervescent.
A Kermit Lynch Tuscan import from Chianti Classico a beautiful easy drinking Sangiovese.
From Crozes-Hermitage in Northern Rhone a 100% Syrah, flavors of cherry, licorice, and violets.
The perfect wine for the grill!
See you at the Vault
Our next wine tasting will be Saturday, May 21! 
 Wine, Cheese, Chocolate, and Port pairing!
Wine tastings are back! It is hot outside but cool in The Vault!
Please join us for a casual wine tasting this Saturday, May 21
from 4:00-7:00
Each wine will be paired with our favorite specials.
An elegant Slovenian rose will be paired with mixed nuts. A light fresh chillable Spanish red will be served with Von Trap soft cheese. A local favorite produced by Stella XIV, Birches, will be served with Von Trapp salami. 
The port, is a deep lush dark berry tasting port that will be served with  Mont Vert Chocolate Pate, a chocolate ganache blended with chevre, honey, and a touch of lavender.
See you Saturday anytime between 4:00 a 7:00.
Mont Vert Pâté Chocolat dark milk chocolate ganache brick with chèvre, raw honey & a pinch of lavender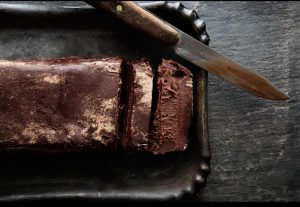 See you Saturday anytime between 4:00 a 7:00.
Join us this Friday, April 22 for a casual wine tasting
anytime between 4:00 and 7:00

Friday, April 7, anytime between 4-7
This week's lineup pairs splendidly with Easter 
We will taste a sparkling rose from Austria, a touch of sweet, perfect for Easter brunch.
A reserve Trimbach Riesling  from Alsace. A Gamay from the Cote de Brouilly vines grown on blue volcanic rock, and an excellent Pinot Noir from Ken Wright out of Willamette Oregon.
     
Friday, April 1, anytime between 4-7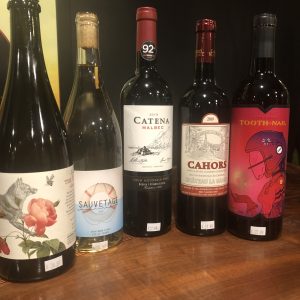 Friday, March 25 anytime between 4-7
This week we will taste:
 Rose– A vegan pét-nat rose from Scribe Vineyards located in Sonoma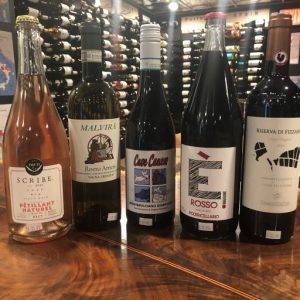 Whites– One of my favorite Italian whites, full and floral Arneis from Piedmont,  produced by Malvira. 
Reds– A great pizza wine,  Cave Canem Montepulciano d'Abruzzo. 
A natural Barbera with just a bit of spritz produced by Poderi Cellario.
A not to be missed Chianti Classico Single Vineyard Riserva di Fizzano Gran Selezione 2016, a great year! Produced by Rocca delle Macie
Friday, March 18
Join us for wine and cupcakes! We will taste wines of Spain and one cider Bubley from Vermont's very own La Garagista.
Friday, March 11
Join us for wine and cupcakes! We are celebrating women winemakers who really know how to produce some great juice!! The Lineup is provided by  Waterbury importers, Vermont Wine Shepherd. 
Our new neighbor Red Poppy Cakery is making cupcakes, a perfect match for our wines this week.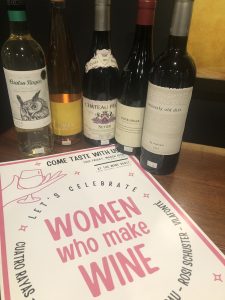 Friday, March 4 lineup with cupcakes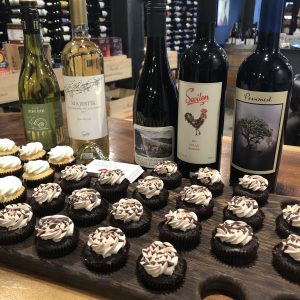 Friday, February 25, lineup
See you at the Vault!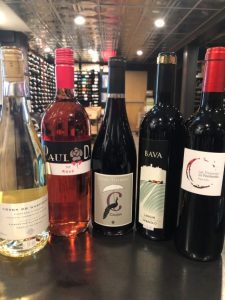 Friday, February 18 taste, see you at the Vault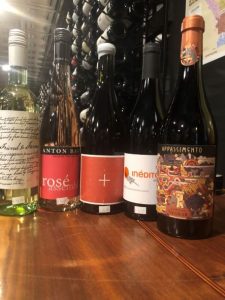 Come experience Spain, Austria, Italy
The Wine Vault is open seven days a week! We open at noon daily.
Join us anytime between 4:00 and 7:00 for Valentine's wine and Chocolate tasting!!
Friday, February 11 we have a great lineup!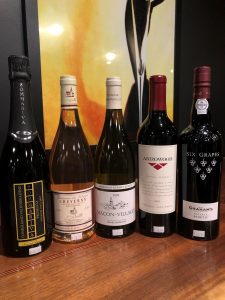 Curbside and delivery options are available at 802-244-1111.
December 17, 2021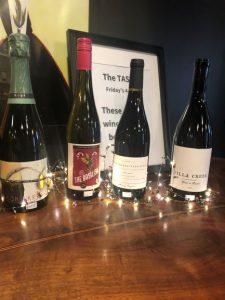 Organic bubbly from Spain, a Dry Mosel Riesling, a light bright potent Gamay from Beaujolais a Mary Taylor import, and a bold treat from Paso Robles, Villa Creek- Rocks and Flowers,  A biodynamic Rhone blend of Grenache, Syrah, Mourvedre, and Carignan only 368 cases produced.
Frade.iday, November 19, Join us from 4:00 to 7:00 to try these Fab Four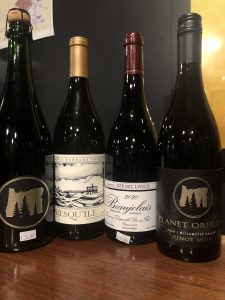 On the 19 we will taste 2 Planet Oregon Pinot Nori's one sparkling and one still. A gorgeous un-oaked Chardonnay out of Santa Barbra and an excellent Gamay out of Beaujolais. See you soon!
We have two elegant whites from France, a Chardonnay and a Viognier. 
We will celebrate National Merlot Day with a French Merlot from the Languedoc-Roussillon and a new world style from Napa. 
November 12, 2021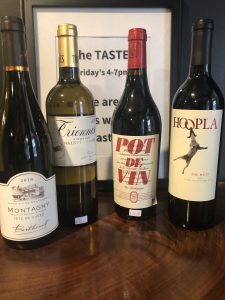 October 23 Biodynamic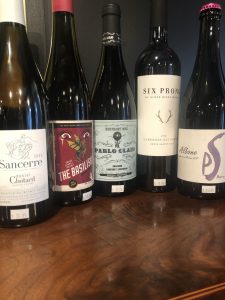 Friday, October 1, Join us from 4:00 to 7:00 to try this great lineup!

Join us this Friday for a casual wine tasting, anytime between 4:00 and 7:00.
This week we are enjoying some of our Biodynamic favorites. Biodynamic farming supports the ecosystem of the vineyard as a  whole, with each portion of the vineyard contributing to the next. The idea is to create a self-sustaining system. These wines are clean, fresh, and fabulous! 
The whites this week are a Viognier and Marsanne blend from  McLaren Vale in  South Australia, and a South African Sauvignon Blanc from Waterkloof Vineyards.
The reds are a non-typical Cabernet Franc from the Loire and a must-try Pinot Noir from the Adelaide Hills in South Australia. 
See you at the Vault!
Special Saturday Eve Taste August 28 from 4:00 to 7:00 Saturday, August 28, 2021
We will taste two Chardonnay's an unoaked from Beaujolais, vs a considerable oaked number from Napa.
The reds to taste are a blend from the now fire-ridden region of El Dorado in California and a great GS blend from the Cotes Du Rhone village of  Seguret just north of Gigondas. 
See you Friday
Cheers from the Vault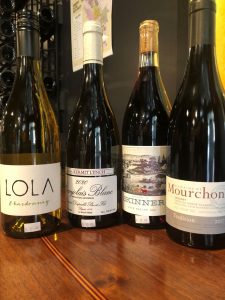 We will be tasting these five wines!!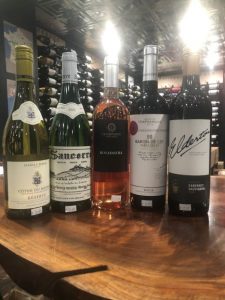 A white blend from the Rhone Valley in France.
A Sancerre imported by Kermit Lynch
A Nebbiolo  Rosé  from the Piedmont
A brilliant best value Tempranillo from Spain
and last but not least a fab Australian Cabernet Sauvignon.
See you at the Vault!
Friday, August 6, an exciting line-up.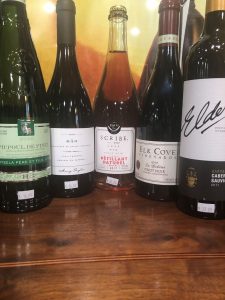 See you at the Vault!