Join us Every Friday Eve 4:00-7:00
Friday, December 1, Join us from 4:00 to 7:00 to try these Fab Four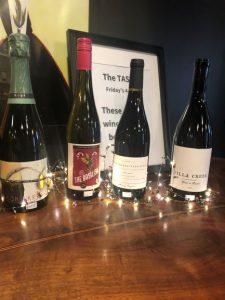 Organic bubbly from Spain, a Dry Mosel Riesling, a light bright potent Gamay from Beaujolais a Mary Taylor import, and a bold treat from Paso Robles, Villa Creek- Rocks and Flowers, Rhone blend of Grenache, Syrah, Mourvedre and Carignan only 368 cases made.
Friday, November 19, Join us from 4:00 to 7:00 to try these Fab Four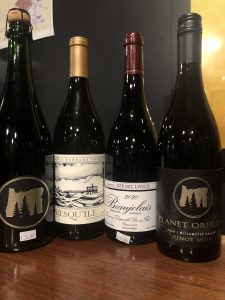 On the 19 we will taste 2 Planet Oregon Pinot Nori's one sparkling and one still. A gorgeous un-oaked Chardonnay out of Santa Barbra and an excellent Gamay out of Beaujolais. See you soon!
We have two elegant whites from France, a Chardonnay and a Viognier. 
We will celebrate National Merlot Day with a French Merlot from the Languedoc-Roussillon and a new world style from Napa. 
November 12, 2021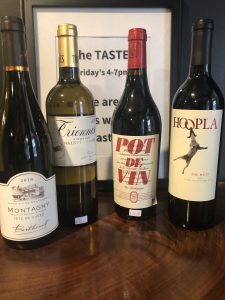 October 23 Biodynamic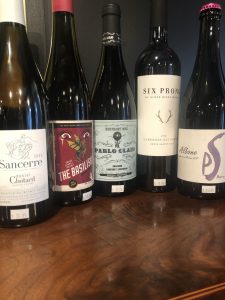 Friday, October 1, Join us from 4:00 to 7:00 to try this great lineup!

Join us this Friday for a casual wine tasting, anytime between 4:00 and 7:00.
This week we are enjoying some of our Biodynamic favorites. Biodynamic farming supports the ecosystem of the vineyard as a  whole, with each portion of the vineyard contributing to the next. The idea is to create a self-sustaining system. These wines are clean, fresh, and fabulous! 
The whites this week are a Viognier and Marsanne blend from  McLaren Vale in  South Australia, and a South African Sauvignon Blanc from Waterkloof Vineyards.
The reds are a non-typical Cabernet Franc from the Loire and a must-try Pinot Noir from the Adelaide Hills in South Australia. 
See you at the Vault!
Special Saturday Eve Taste August 28 from 4:00 to 7:00 Saturday, August 28, 2021
We will taste two Chardonnay's an unoaked from Beaujolais, vs a considerable oaked number from Napa.
The reds to taste are a blend from the now fire-ridden region of El Dorado in California and a great GS blend from the Cotes Du Rhone village of  Seguret just north of Gigondas. 
See you Friday
Cheers from the Vault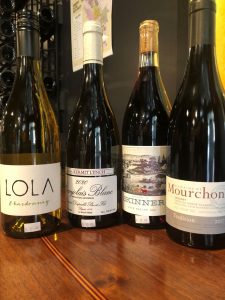 We will be tasting these five wines!!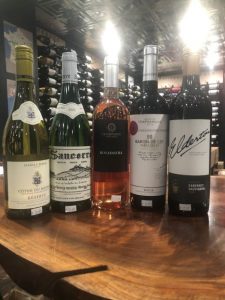 A white blend from the Rhone Valley in France.
A Sancerre imported by Kermit Lynch
A Nebbiolo  Rosé  from the Piedmont
A brilliant best value Tempranillo from Spain
and last but not least a fab Australian Cabernet Sauvignon.
See you at the Vault!
Friday, August 6, an exciting line-up.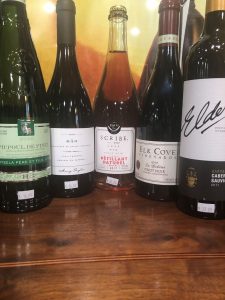 See you at the Vault!