Description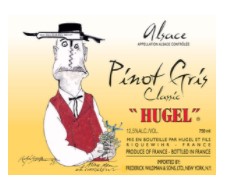 For over 370 years and with twelve-family generations the Hugel family has unrivalled experience and knowledge of Alsace vineyards and winemaking. Without the work of the remarkable Hugel family, located in the picture-postcard fortified village of Riquewihr, the worldwide reputation of Alsace wine would not be the same.
Over half Hugel's 30-hectares are in Grand Cru vineyards Sporen and Schoenenbourg, a special source of pride, planted to Riesling and Gewurztraminer, with small parcels of Pinot Gris and Pinot Noir. Winemaking is transparent, so that fruit, soil and vintage are clearly conveyed in the glass. Hand-picked grapes come to the winery in small tubs, are rigorously sorted then gravity-fed into the presses without pumping. After gentle pressing the must is decanted before a long, slow fermentation in temperature-controlled barrels or vats at 64 to 72°F. The wine is racked once, before slow natural clarification over the winter. "Hugel" wines are the quintessence of Alsace.
The Hugel website offers a wealth of information about Alsace wine, www.hugel.com. Hugel has pioneered much advancement in Alsace, including the early creation and classification of Grand Cru vineyards. Today, Hugel prefers not to use the Grand Cru designation, because the original boundaries and number of these vineyards have been expanded to include less-favored sites. House specialties include late harvest Vendange Tardive and Sélection de Grains Nobles wines, made with selected botrytis-affected grapes. Wines are released only when the family agrees they're ready; the focus is ultimate quality. A first-time taste of these wines is a revelation: aromatic, pristine and suave fruit with earthy minerals.
Additional information
| | |
| --- | --- |
| Weight | 42.4 oz |
| Dimensions | 15 × 5 × 5 in |