PEIRANO ESTATE VINEYARDS, LODI MERLOT
$15.99
Tasting Notes:
Aromas of black cherries, red ripe raspberries, strawberry and spice (white pepper), join together in a single sensation of olfactory bliss. The mouth is filled with an array of flavors, including black cherry, strawberry, and raspberry with lingering hints of cocoa and toasted oak. Moderate tannins and good acidity leave a pleasing, long-lasting finish. Each juicy sip is more comforting than the last always leaving the palate to want more.
Description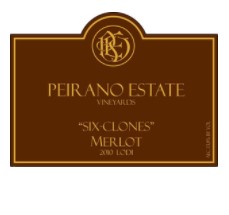 Vineyard Notes:
Peirano Estate Vineyard's Merlot is produced from 6 different clones, or sub-varieties, of Merlot grown on the estate, including two rare French clones (#181 and #314), as well as the very rare Italian clone #9. Peirano Estate was the first commercial winery to grow and produce wine from these rare Merlot clones. Each of these clones' distinctive characters are further enhanced by shoot thinning and positioning, allowing for maximum light refraction to properly ripen the grapes. We also employ natural suppression of insects and rodents through natural means- predatory insects, specific bird habitats, and the like- to ensure the vines maintain their health through the growing season. The grapes were all hand-selected from within each section for maximum maturity and flavor.
Winemaker Notes:
After hand harvesting all of the best Merlot from our estate vineyard, the fruit arrives at the winery ready for its careful journey from grape to wine. The must was inoculated with Bordeaux red Pasteur yeast, fermented to dryness, pressed, and settled before being moved into barrels. Aged in all French oak barrels, of which less than 20% was new oak. The barrels were specifically selected to complement the supple structure of our Merlot and came from such cooperages as Demptos, Vernou, Seguin Moreau, and Mendocino. The wine was racked after completion of malolactic fermentation, and every three months following, while the barrels were topped up every two weeks to keep headspace at an absolute minimum.
Additional information
| | |
| --- | --- |
| Weight | 42.4 oz |
| Dimensions | 15 × 5 × 5 in |