DUCKHORN P NOIR MIGRATON
$39.99
Description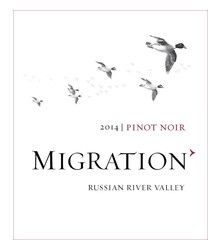 Since crafting its premiere vintage of Anderson Valley Pinot Noir in 2001, Duckhorn Wine Company's Migration has earned acclaim for a refined and compelling style of winemaking that seamlessly balances vibrancy and finesse.
Embodying the lush elegance of cool-climate California winegrowing, Migration's exploration of the great Burgundian varietals began in Anderson Valley where Duckhorn Wine Company cultivates four estate Pinot Noir vineyards, spanning 207 vine acres. Shaped by the valley's cool nights, fog-shrouded mornings and mild, sunny afternoons, this world-class fruit became the core of Migration's stylistic identity — producing sophisticated wines with abundant fruit and bright acidity.
Building on what Migration had already achieved with Pinot Noir,making Chardonnay in a similar style became a natural next step. In 2008, Migration produced its first Chardonnay, using fruit from elite vineyard sources in the Russian River Valley. Representing the first Chardonnay in Duckhorn Wine Company's 30-year history, this highly anticipated wine was released in the spring of 2010, and along with the Anderson Valley Pinot Noir, will form the cornerstone of the Migration portfolio.
Today, guided by winemaker Bo Felton — a cool-climate Pinot Noir and Chardonnay specialist — Migration has taken flight. Defined by the idea of movement, Migration is dedicated to going beyond its original home and exploring Pinot Noir and Chardonnay from California's finest cool-climate appellations. "Traditionally at Duckhorn Wine Company," says Bo, "the character of a particular wine is deeply connected to a specific place or region. Migration offers a different paradigm. We are starting with a clearly defined style and exploring how that style can be expressed in different winegrowing regions, which is a fascinating prospect."
Additional information
| | |
| --- | --- |
| Weight | 42.4 oz |
| Dimensions | 14 × 5 × 5 in |