DOMAINE DES ROCHES NEUVES, SAUMUR-CHAMPIGNY LES MEMORIES
$65.99
Description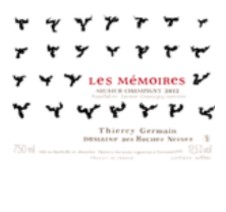 Thierry Germain made the move away from the Gironde to the Loire Valley in 1991, taking possession of Domaine des Roches Neuves in Varrains, just on the outskirts of Saumur. Shortly afterwards he was followed by his father, Bernard, although in his case it might be more appropriate to say he came up to the Layon rather than the Loire, as of all the estates he purchased Bernard Germain was perhaps best known for his tenure of Chateau de Fesles. He acquired this estate from the renowned pastry chef Gaston Lenôtre in what seems like a bulk deal which also saw him take possession of Chateau de Varennes in Savennières as well as Chateau de la Guimonière and the aforementioned Chateau de la Roulerie, the latter two both firmly tied to the Anjou-Layon appellations. Although Bernard's possession of Fesles was relatively short-lived in the grand scheme of things, presumed financial difficulties resulting in its sale to the négociant group Grands Chais de France in 2008, the rest of the family seem to be having more success at their respective domaines.
Philippe has settled in well at Roulerie, and has set about consolidating and then expanding his domaine. Meanwhile Thierry remains firmly ensconced at Roches Neuves, a 28 hectare domaine. During his twenty-or-so years there his ethos and style of winemaking has exhibited a gradual evolution, his red wines shifting from a robust, concentrated, tannic and oaked style that harked of Thierry's Bordeaux origins more than the Loire, to wines that show great purity and silky structures. And this being the Loire, Thierry hasn't shied away from the exploration and experimentation for which the region has justly become renowned; he first added a white cuvée to his portfolio, and more recently he has entered into partnerships with local vignerons to work on new projects such as a sparkling zero-dosage wine. He has also very recently added a Saumur-Champigny cuvée from ungrafted vines to his portfolio – "Franc de PIed". Thierry is innovating and motivating, and has long left behind any suggestion that his wines are stuffy, stuck-in-the-mud Bordeaux hangovers; today this is one of the most exciting domaines to visit around Saumur.
The vineyard is worked in a natural way -3 horses help- with the goal of keeping the vine and the soil at its healthiest, and is fully biodynamic since the 2005 vintage. The harvest is manual, selecting grapes at their very ripest level. Vinification is handled in small batches then bottling unfined and unfiltered. Germain has garnered praise in the European press for his exciting wines, which are always filled with ripe, generous fruit and supple textures.
Farming practices: Certified Organic
Revue du Vin de France – Michel Bettane.
"One of the elite wine-growers, (Germain) gathers exceptionally ripe grapes which give a unique smoothness and velvety texture to his wines….One might think that Thierry Germain was going to take a break. Indefatigable, he continues to progress in refining each of his cuvées. All of his wines are superb, but not easy to obtain because the demand for them is so great."
Revue des Vins de France elected him "Meilleur vigneron de France" in 2011.
Additional information
| | |
| --- | --- |
| Weight | 42.4 oz |
| Dimensions | 15 × 5 × 5 in |