VIEVITE, COTES DE PROVENCE ROSE
$22.99
Description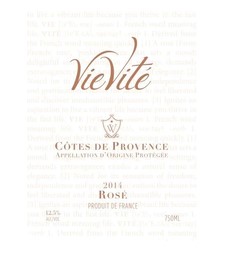 30% Cinsault, 30% Grenache, 30% Syrah & 10% Carignan
Domaine Sainte Marie is ideally located just outside Saint Tropez and stretches over 45 hectares of land. With great southern exposure, the land is made of a filterable siliceous soil containing micaschists, schists, and white quartz. The slopes are rather soft and the grapevines are on average 25 years old, benefitting from hot and dry weather in the summer.
A fresh and delicate aroma of cherries and strawberries with notes of spices to create a satisfying sensation on the palate. VieVité excites with its opulent fruit forward aromas of peach, grape, apricot and black currant, while emanating soft hues of pale pink and coral.
Additional information
| | |
| --- | --- |
| Weight | 42.4 oz |
| Dimensions | 15 × 5 × 5 in |