DOMAINE DE MORIN LANGARAN, PICPOUL DE PINET
$11.99
Description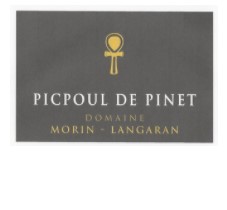 Located over the Bassin of Thau and all along the Via Domitia, the Vineyard was created in 1330. It was the property of a religious order: the Holy-Spirit order. During the religious wars, monks abandoned their properties. Several families took care of the vineyard but its name was given by François Engarran in 1595 when he became the owner. The vineyard then remained in the Engarran family until 1652.
In 1966, the Morin family (winegrowers from father to son since 1830) became the vineyard's owner under Albert Morin's authority. Nowadays, the vineyard stretches over 58 hectares, 36 devoted to white grapes and 22 to red grapes, and it is totally under the AOP Picpoul de Pinet. The estate is located on a calcareous plateau covered with very small stones and fine sand. Near the Bassin of Thau, the vines face the Morning sun. The Tramontane, dominant, dry and cold wind blows the clouds and dries out the soils. This lack of water is partially balanced by the sea sprays coming from the Bassin of
Thau.
Night harvest in order to preserve aromas and freshness. Immediate pressing and cold settling at a very low temperature. Fermentation is achieved under controlled temperature. No stirring of lees on this quality to reach a saline finish and liveliness.
Additional information
| | |
| --- | --- |
| Weight | 42.4 oz |
| Dimensions | 14 × 5 × 5 in |