next wine tasting friday june 16
Join us anytime between 4&7 for a fantastic lineup with Jessica from Farrell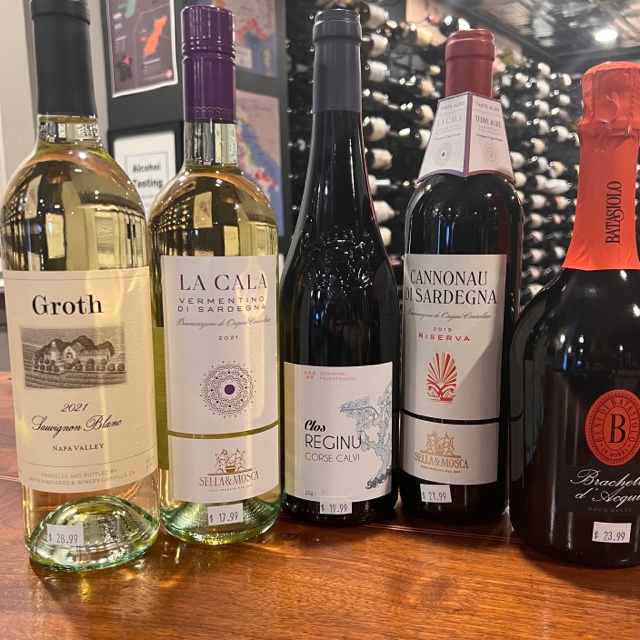 We will taste two whites, two reds, and a sparkling sweet red!
The Napa white is a Sauvignon Blanc, and Semion blend by Groth Vineyards. All of the Sauvignon Blanc and Semillon were whole-cluster pressed, giving a juice of incredibly high fruitiness and softness.
The white from Sardegna is 100% Vermentino La Cala from Sella & Mosca and has aromas of fresh citrus and tropical fruit and white flowers accented by a mineral note and a hint of the surrounding Mediterranean vegetation.
Clos Reginu a red blend from Corsica, France. Grape Varieties : Niellucciu, Grenache, Sciaccarellu, Syrah, Mourvèdre. Aging: 5 – 25 years. Vinification: All grapes are picked by hand. Made from the domain's youngest vines, Wine ages in the tank. Bottled unfiltered
The red from Sella & Mosca is 100% Cannonau, the local name for Grenache; the brilliant ruby red color yields an ample and complex bouquet; violet, rose, cherry, and currant encounter just a bit of spice. In the mouth, the wine is full, robust, warm, and generous yet well-balanced, fresh, and deep. The finish is persistent, with a silky texture.
The sparkling red is a surprise with a hint of sweetness. We will pair it with our Chocolate ganache blended with blue cheese and bourbon barrel-aged maple syrup.