Wine Tasting Friday march 10
Please join us anytime between 4-7 March 10, for three reds and a white!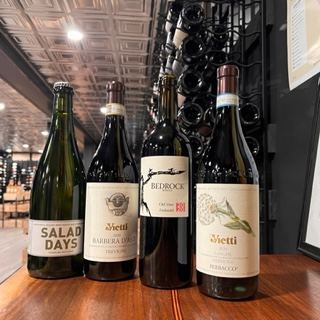 The White Wine this week is full of Easter Brunch fun. Salad Days, at only 9.9% alcohol by volume, is crisp pear, green apple, lemon, and green herbs refreshing easy, drinking Pet Nat.
The reds from Italy represent some of the best of Piedmont.
A 100% Barbera of Asti is a Ruby red color with mineral and vanilla notes. A medium-bodied, dry wine with a crisp acidity (perfect for the whole meal) and soft tannins. Well balanced, with good complexity and a red cherry finish.
Pair with Appetizers, rich salads, grilled seasonal vegetables, soups, stews, pasta, veal, pork, and chicken with light sauces.
The Perbacco is a superb example of Nebbiolo.
Winemaker Notes on this fine Nebbiolo
Medium deep ruby color. Quite an intense and generous fruity nose (red berries), floral and spicy notes, a hint of menthol, and hard candy. On the pallet, medium-bodied, showing notable intensity while retaining an essentially mid-weight style. Strong, intense, and quite powerful when young, evolving to a complex, elegant, well-balanced wine with aging. The tannins are harmoniously integrated in the fruit structure of the wine. Long-lasting aftertaste with good freshness.
Pair with a hearty stew, wild game, roasted red meats, and sharp, aged cheeses.
We will round out the taste with a Zinfandel from the folks at Bedrock Vineyards in Sonoma. The wine is Purple, ruby at the rim, opaque and bright.  The nose is great with raspberries, black cherries, and bramble.  Medium to full-bodied.  On the palate, black cherry fruit with some char and black pepper.